Ultimate Guide to Business Cards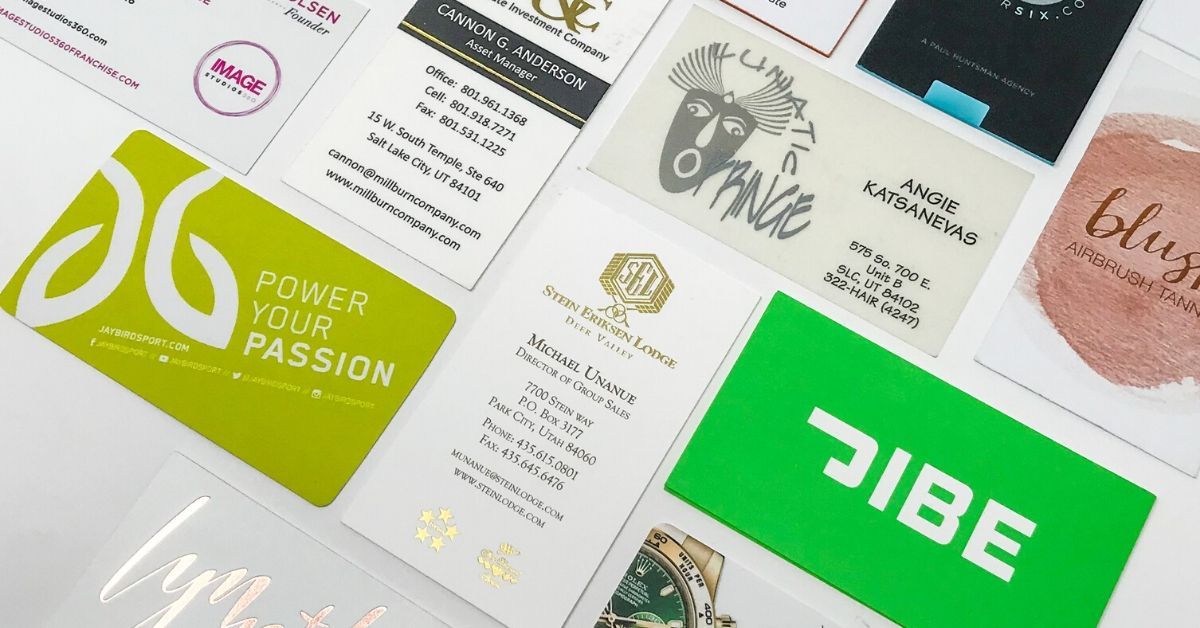 Looking to create the perfect business card? Whether you've used the same design for years or are just starting out, never underestimate the power a good business card can have.
Business cards are not outdated or old-fashioned!
Business cards are still a necessary part of any business because they make it easy to provide your contact information to a potential customer. While business card designs have changed over the years, the purpose is the same.
What Is the Goal of a Good Business Card?
If you're looking to network with your peers or want to give your contact info for a future business deal, you need a good business card.Business cards are designed to:
Connect you to a potential customer
Build brand recognition
When you give someone a business card, they should be able to readily recognize who your business is from the design. However, design isn't the only thing you should worry about. It should look and feel like your business while providing the best way for people to get in touch with you.
What Info Should I Include on My Business Card?
More is not better when it comes to business card design. Put the most important information on your card, plus the best ways to contact you. Some pieces of info you should consider including are:
Your name
The name of your business and a logo
Email address
Phone number
A website URL
Social media handles
You don't have to include everything, just the information you think would be most important for your potential customers to know. If you don't respond to phone calls, don't include your phone number! It's that easy.
Because business cards have limited space, be mindful of the design. While you should take advantage of the space you have, a little white space can go a long way!
Tips for Designing the Perfect Business Card
Your business card design should represent your industry in a way that you can tell what industry someone is part of just on the design alone. For example, if you're a photographer, you should consider including some of your best shots.
If you're a graphic designer, you can and should design your business card yourself (and include it as part of your portfolio).
Here are other tips to create the perfect business card.
Follow Your Business's Branding
Match your visual presence online and offline. This means you should stick with your business's colors and fonts, so when people go from your business card to your website, it should look the same so people know they've found the right place.
If you can, create a style guide so anyone working for your company stays consistent with your brand and voice.
Don't Sacrifice Usability for Design
Keep your business card as easy to read as possible. Don't put black text on a dark background. Instead, design your business card so it's easy to read. Fonts on the card should be as large as the design permits and legible.
While gorgeous cursive fonts may look good, they can be hard to read. Use fonts with embellishments for non-important information and plain fonts for your contact information and other important info.
A good graphic designer can help your business card look good while being functional. Can they read everything you have on the card? Does it look good?
Read more from us: How to Design an Eye-Catching Business Card
Use Custom Shapes and Sizes
Did you know business cards don't have to come in the classic shape and size? Make your business card stand out!
At Presto Print, we carry the standard 2" x 3.5" US standard and the round rectangle that's 55 mm x 85 mm (the European standard), plus a variety of shapes! We can print business cards in shapes, such as:
Half circle

Wink

Leaf

Oval

Prescored folded

Circle

Square

Rounded square
Choose the Right Paper Type
You can choose something matte or glossy for your business card. At Presto Print, we have a variety of paper finishes, including:
| | |
| --- | --- |
| 28# Color Copy Digital | 80# Dull Digital Cover |
| 32# Color Copy Digital | 14 mil Synthetic Paper |
| 50# Uncoated | 12Pt High Gloss Coated One Sided |
| 60# Uncoated | 100# Gloss Cover |
| 70# Uncoated | 100# Dull Digital Cover |
| 80# Velvet Text | 100# Linen Cover |
| 80# Gloss Text | 120# Uncoated Digital Cover |
| 100# Velvet Text | 120# Sterling Digital Dull Cover |
| 80# Uncoated Digital Cover | 130# Dull Digital Cover |
Often, cardstock is the most common type of paper with a 100 lb thickness, but what you decide to use is up to you! The thicker the paper, the more expensive it is to print. If you're planning on printing a large quantity of business cards, you may want to choose a cheaper, thinner option.
Add an Extra Finish
A good print shop is the best place to make your business card unique. While others might have basic features, such as matte or gloss, a print shop adds extra elements that can't be replicated at home.
Raised Ink

Using thermography, powder is added to the ink and is then heated up. The leftover ink is raised and gives it a slightly bumpy texture.

Raised UV

Similar to raised ink, it creates a lifted ink effect that's smooth to the touch.

Raised Foil

If you're looking for extra shine, raised foil is the way to go. You can get a metallic sheen to your print.

Embossing and Debossing

Choose this feature to create extra texture to your design. Embossing creates a lifted effect while debossing sinks the paper in.

Die Cutting

If you want a certain shape or want certain pieces of your design, cut out, a good die cutter can create a die with your custom shape and stamp out your unique design.

Spot High Gloss UV

Want your business cards to last with a shine that's to die for? A spot high gloss UV print is what you are looking for.

Soft Touch Lamination

Texture is an important part of a business card, and our soft-touch lamination creates a unique feel with your print.
Make It Unique
Want to really stand out? At Presto Print, we have a variety of different materials and options, so the sky's the limit! We'd be happy to work with you, whether you're looking for a specific fold, pattern or shape.
Pick the Right Printer
When it comes to business cards, you get what you pay for. Before you've made a commitment to a printer, come to our shop. We have plenty of samples you can look at whether you have a design or not. If you do have a design, great! Just read our 10 tips to get your design print-ready to make sure it can go directly from your computer to print.
We pride ourselves in our customer service. Whether you need something right away or need a printer who gets it right the first time, Presto Print is the place to go. As your local printing company in Salt Lake City, we'd love to help you. Get your free quote today!