How to Design an Eye-Catching Business Card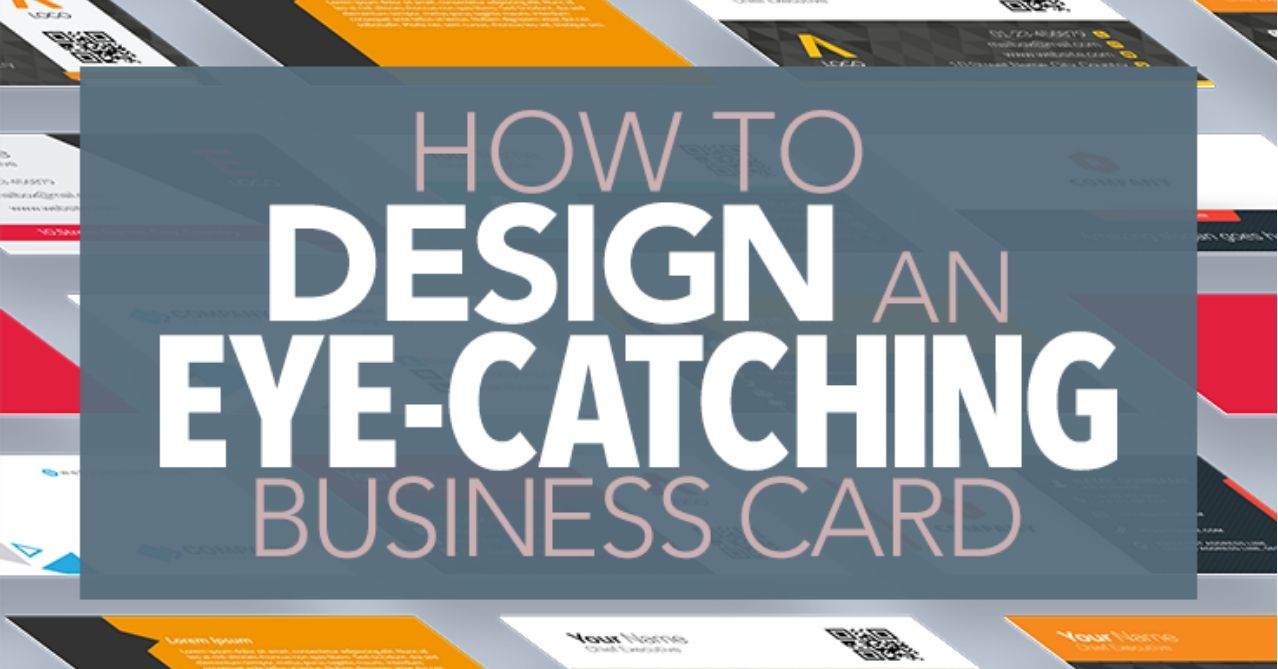 Have you ever been to a trade show and handed out a countless number of business cards only to find that many of them ended up in the trash or were left scattered around on the floor? That's a pretty common occurrence because the lifespan of a card is actually pretty low. In fact, 90% of cards are thrown away in less than a week after being handed out.
If you want your card to last longer or to give you return on investment (ROI), you have to step up your game. Consider these eye-catching business card design tips for optimal results.
Include Only Necessary Information
No card can be complete or even useful without having the necessary information on it. However, you have to be careful and make sure that it doesn't have too many or too few details. This is what your business card needs to include:
Your name and title
The business name and logo
At least one way to contact you (i.e., phone number, social media, or email address)
A website URL
Keep it simple! Don't go into information overload. It should only take a few seconds for the receiver to process what's on it.
Consider Your Audience and Their Tastes
Your card should be designed to attract those who it's intended for. You have to understand who they are and what they like—think in terms of stereotypes. For example, a lavender-colored card with feminine, cursive writing isn't going to fare well with the typical rough and tough truck driver-type of person. Yet, it would be a good fit for brides-to-be who are planning their weddings.
Before brainstorming your card's design take a few minutes to jot down some notes. Think about the people you serve. What are their interests? When you think of them what design styles come to mind first? You may even want to think about the type of clothing that they wear—are they high-end and fancy, hipster and trendy, or plain and simple? If you can answer those questions, then you are at a good starting point and are ready for the actual design brainstorming process to begin.
Utilize Appealing Design Features
We know how important a good business card is. In fact, Matt Varanakis, the general manager of Presto Print, was interviewed as part of an article in Utah Business. He says, "Having a nice business card shows you have credibility and there is substance to your company." You can read the full article on Utah Business.
Business cards are often seen as an old-school, traditional marketing tool. With the right design, however, yours can be modern, attractive, and influential. Your card should be simple, easy to read, and clear-cut. It should be a conversation starter! To help it stand out you could have it designed with special finishing features like foil accents and die cuts.
Another attention-grabbing way to design a card is to have it made with an unusual material. Creative Bloq highlights two companies that do this in interesting ways:
The cheese company Bon Vivant had their business card printed on metal and double as a mini grater.
Sergio Freitas, a dog coach, had his name, title, and phone number printed on edible dog treats.
You don't have to go the extravagant route like they did but the point is to be unique. With this idea in mind, we've designed beautiful frosted and transparent plastic business cards for our clients.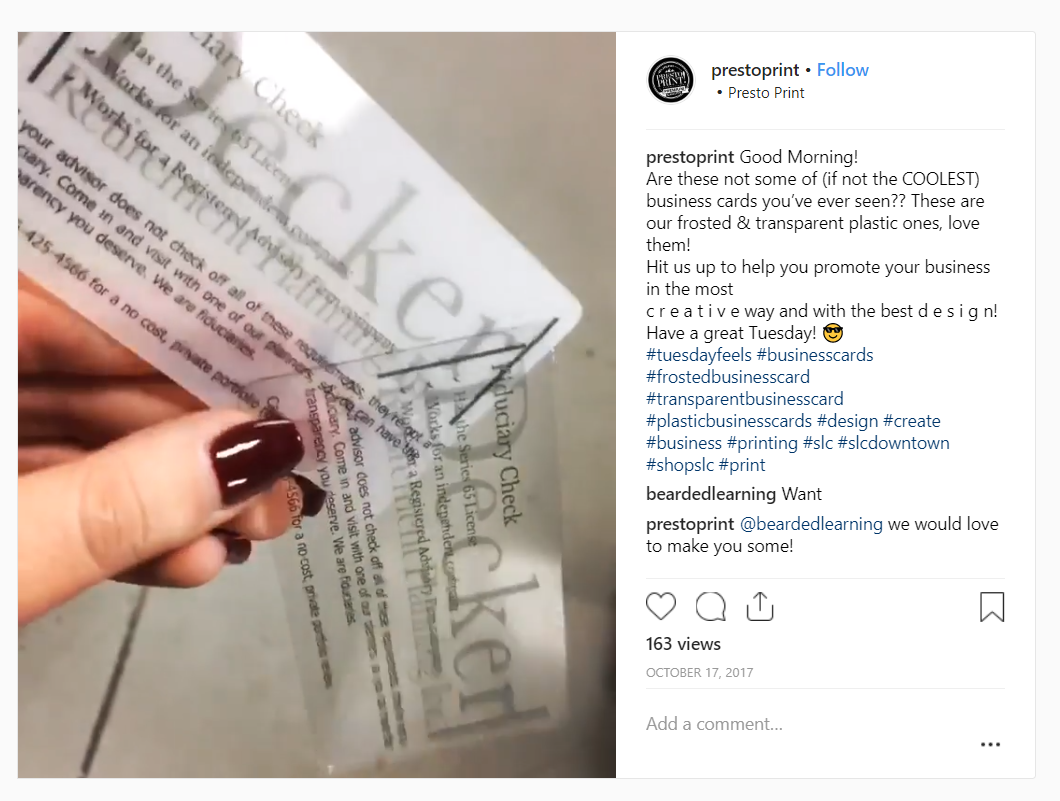 Your card should look different from all of the other companies'. After all, you don't want it to end up being stuffed in a potential client's wallet with the rest of their business card collection never to be looked at again.
Be Willing to Experiment
Keep track of those who seek out your services because they got a business card. This can be done with the help of surveys and custom tracking phone numbers that only go on your business cards. If you're not seeing an increase in business, launch a new card design. Be willing to play around, adapt to trends, and make alterations in order to create a card that gets you the best results.
As the saying goes, "If at first you don't succeed, try, try again." Pay attention to what works and switch out what doesn't. If you've used cards that you don't think gave you much ROI in the past, consider how the design (or lack thereof) may have influenced that. Talk to a graphic designer so they can help you understand what improvements can be made to create a better, successful card that will help you reach your intended audience and have them seeking out your business.
Trust Presto Print to Design the Right Business Card for You!
At Presto Print we know how important it is to have a top-notch business card that you can hand out to potential and current clients. Call us today and our trustworthy graphic designers and staff will work hard to create the best card for your business pursuits.