Cost of Shipping Print Materials vs Printing on Location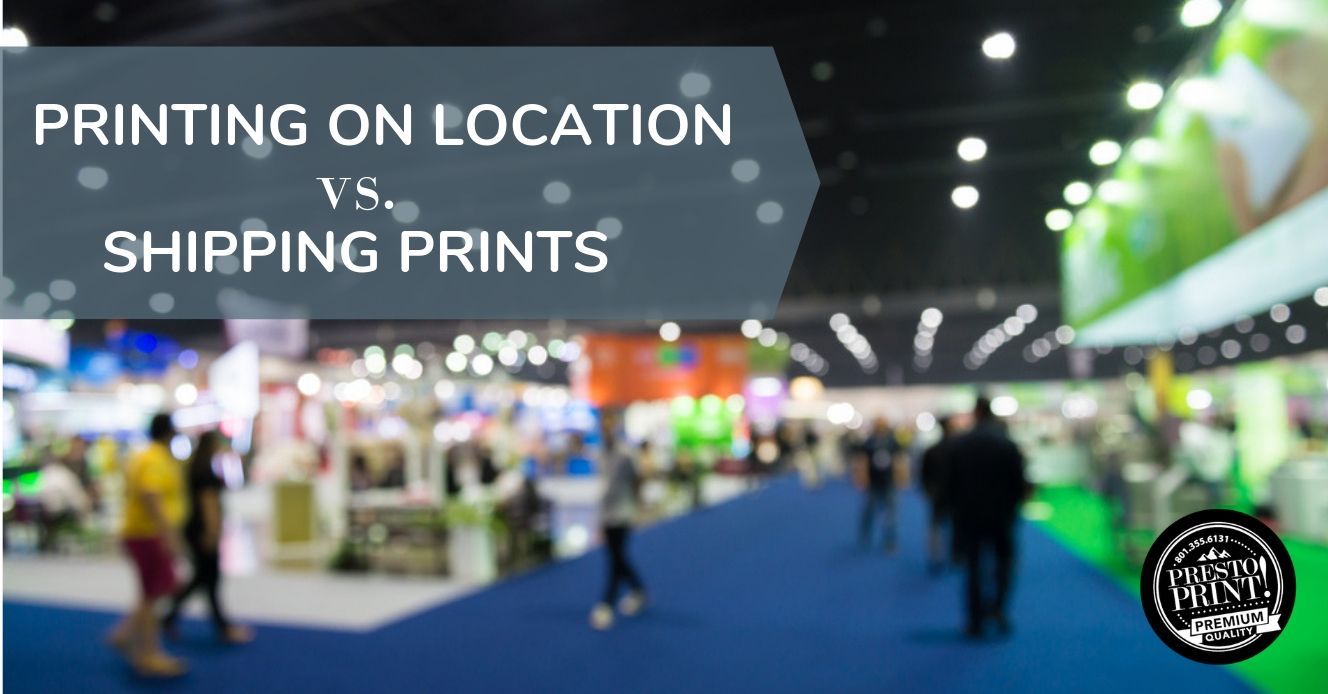 Creating a display for a trade show is a big investment. Depending on the size of your display, you could be spending over $150 per square foot. According to Exhibitor, about 10% of that cost is just in shipping your display to the event. Planning for your next big event? Find ways to cut down on that cost by choosing to print locally. Both shipping and printing locally have pros and cons, as there are a number of factors that can affect the cost.
Here are a few things to consider when choosing between shipping your display as compared to choosing a printer close to the event to get the display ready for you. Keep reading for more in-depth information on the advantages and disadvantages of each.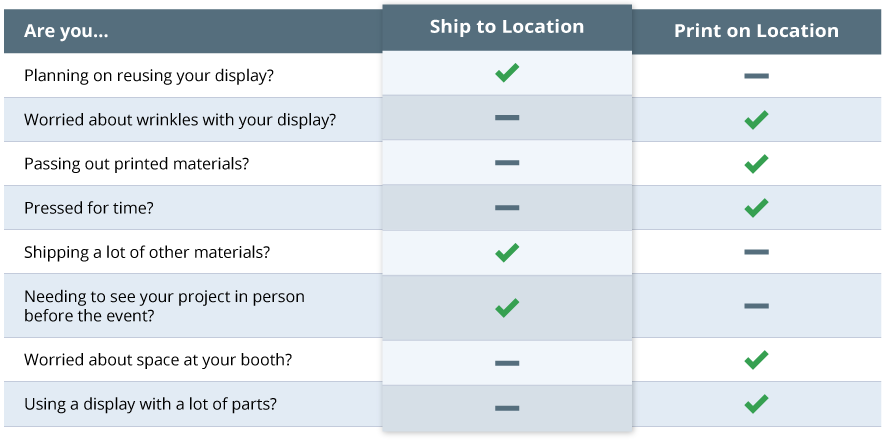 Shipping Trade Show Materials
There are a variety of options you can choose from to ship displays. The size and weight, plus the time you have for your shipment to get there all factor into the cost of setting up your display.
Advantages
Choosing to build your display close to home gives a few advantages. The biggest perk of printing near your business before the event means it gives you the opportunity to reuse your display, but you'll have to invest in the proper storage and transportation for your display first. Printing near your business also means you can choose a printer you trust and often can see the final product before the event.
Disadvantages
Many of the advantages of shipping print materials create disadvantages too. Once you've invested in expensive durable cases, you'll also have to ship those bulky, heavy cases to the location. More traveling means a higher risk of something getting damaged or a piece going missing. If you're planning on reusing your display, extra care for storage is crucial so you don't have to deal with wrinkles or stains on your display at the event.
You also have to worry about the timing of your display getting there. If it gets there long before the event starts, you have to find a place to store it. Some events offer a storage warehouse, others don't.
Tips to Cut Down on Cost
If you're looking to ship some of your materials, the best way is to cut as much shipping cost as possible, without increasing the risk of damage to your display. You can do this by:
Printing on Location
If you don't want to ship your display, another option is to find a local printer to print the display for you and pick it up when you're ready to set your display up for the event.
Advantages
The biggest advantage of printing on location is that you don't have to pay hefty fees for shipping, and you don't have to deal with bulky cases for your display. If you're in a rush, printing near the location completely cuts out shipping time as well. Because there's less travel time, that also means there's a smaller risk of something breaking or missing a part during transportation.
Disadvantages
While you will have your display ready for you when you get there, you may still be stuck shipping your display back to your location. You also don't get to see your print until you get there, so if something is off, you may not have the chance to get it fixed. However, many printers are happy to work with you to get your project printed to make sure the final product is exactly what you want, without even needing to come into their shop.
Tips to Cut Down on Cost
The best way to save money on your project is to pay attention to the print material. Different types of material have different costs and uses. If you're only planning on using the display once, vinyl may be your best option, as it's relatively cheap for a high quality, professional print. However, if you need your display to have an extra touch of professionalism or you're worried about wrinkles, fabric might be a better option.
Do Both!
If you're planning on using your display for multiple shows, it may not be cost-effective to print a new display each show. Instead, it may be easier to travel with what you already have printed, but print the things that do change every show at a local print shop near the event. Whether you're planning on giving business cards, brochures, or flyers, a print shop near your event can print them for you, making it easy to pick up without worrying about shipping fees or damage. This also means you don't have to haul the little things in or out, but you still get all the advantages of shipping the display you already have.
Want More Tips for a Successful Booth?
Check out our six tips to make your display stand out from the rest. for a successful trade show display. If you're getting ready to print your display for an event, such as the Salt Lake Tribune Home + Garden Show or the Salt Lake Women's Show, leave it to us! Give us a call today for a free quote.