Our Complete Guide to Banners (With Free Downloadable Guide)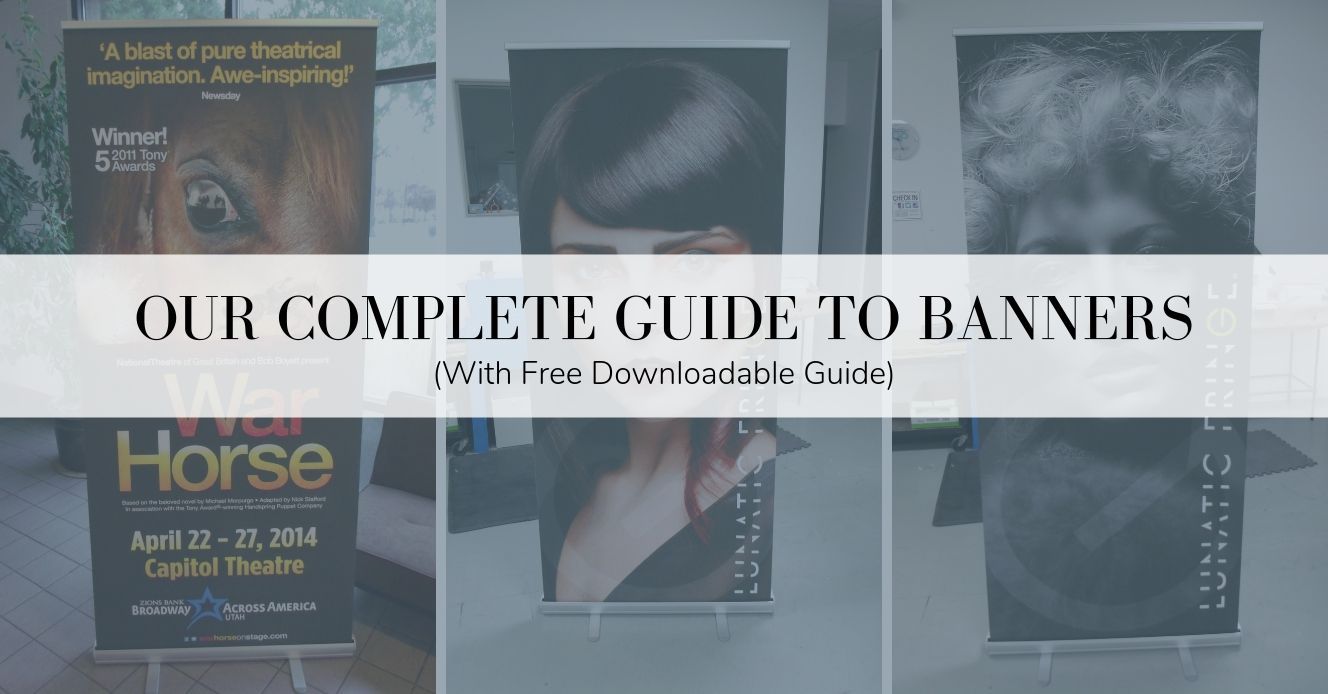 Print isn't as obsolete as you might think. In fact, the perfect banner can:
Increase brand awareness
Draw customers to your business
Showcase specials and deals
Help you make the sale
Unlike digital ads, banners are a cost-effective and non-intrusive way to get your name out to your audience. In fact, people are more willing to trust print ads as compared to digital ones. Clutch conducted a study that found 58% of people trust print ads while only 41% trust online advertising mediums. If you want to get the most out of your banner, be mindful of:
The Purpose
Is your banner for commercial use or is it a one-time personal event, like a wedding or party? Tailoring your print to your project can help you decide exactly what you need, which can save you money and time. Before looking for printers, consider these questions for your commercial printing project:
Are You Using It As a Trade Show Display?
Each trade show comes with different rules on what's allowed and what's not. Some places require certain types of table skirting, while others limit the size of banners hung at your booth. Be mindful of the regulations for each event to get a banner that works at each one without needing to get a new one because your choice was too big or too small.
Do You Want a Photoshoot Backdrop?
Step-and-repeat backdrops are a great way to have a professional background in your photos and they can be printed on a variety of materials. The two most common options are:
Vinyl. Vinyl is relatively inexpensive and easy to get a large print. It's great for both indoor and outdoor events, but you have to be careful how you store your vinyl print, as it wrinkles easy.
Fabric. Fabric absorbs the light from camera flashes, improving the quality of images and it's less likely to get wrinkled. However, it's more expensive to produce as compared to vinyl prints.
Are You Using Your Print More Than Once?
If you're planning on reusing your printed banner more than once, it's more cost-effective to pay for a high quality print that's durable, rather than something cheaper, like vinyl. Investing in a long-term print can help you get the most out of your investment. However, if you're only planning on using the banner once, the less expensive, the better.
Are You Planning On Shipping Your Banner?
If you're traveling to an event that's relatively far, it can get very expensive very fast to ship your print materials to the event. Every time you transport your printed advertisements, you run the risk of damaging your print or missing a crucial piece to your display. Avoid transportation costs by printing local.
The Size and Material
Banners come in a variety of shapes and sizes. While the right printer is able to print what you want, it's important to know exactly what you need. Choosing both the right size and material can help you get the most out of your buck.

There are a variety of materials to choose from, whether you're looking for a large banner or a professional poster, including but not limited to:
Vinyl
Fabric
Mesh
Foam board signs
A-frame signs
Retractable or pop-up banners
Mesh banners are better used outdoors, but vinyl banners work great indoors and out. If you're planning on doing a tradeshow, make sure to look at the show's requirements to see what kind of signage is allowed (and what isn't) to get a better idea of how you want to build your display. You'll also want to consider location, whether the event is indoors or out, as foam board signs or even Gator Board® aren't the best for outdoor events. You can get a good look at the more common types of banner materials and where each material shines in our downloadable guide found down below.
The Design
We understand just how important it is to have your banner stand out from the rest of the advertising noise. You can get more information as part of our article "6 Ways to Make Your Trade Show Display Stand Out From the Rest." Some other common things to consider are:
Color scheme
Font size and style
Words and content
You don't have to design it yourself. Some printers have a team of graphic designers that can help you get your design print-ready.
Download Our Free Banner Guide!
Want to learn more about each type of banner and the best uses for them? Download our free guide to banners that outlines the pros and cons of some of the more common banner options, plus some design tips to help you get the most out of your investment.