Your Complete Booth Checklist for the Salt Lake Women's Show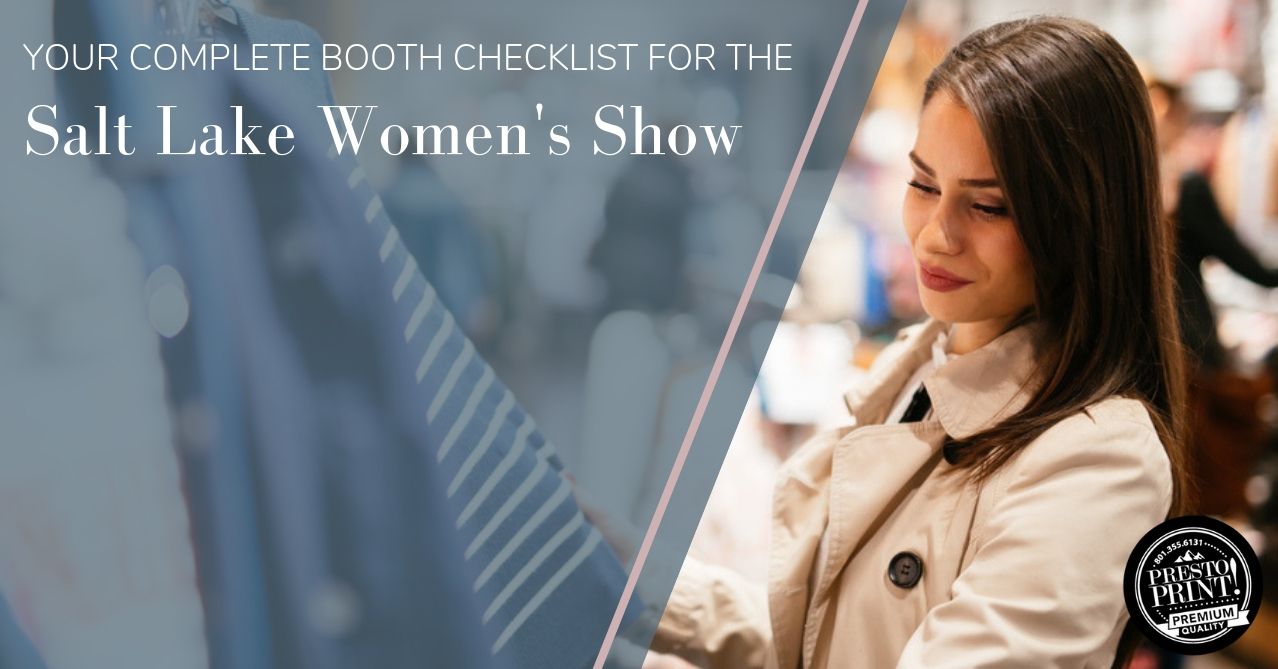 It's the Salt Lake Women's Show coming up February 22-23. If you're planning on being a vendor at this event, we thought we'd make things easier to help you make your event a success. Here's everything you should bring to the booth, from advertising materials to the products themselves.
About the Salt Lake Women's Show
With a variety of giveaways, beauty treatments, free workshops, and live fashion shows, the Salt Lake Women's show focuses on pampering its attendees with a range of fun activities. If you're planning on being a vendor, this event isn't just about networking and marketing, it's a great way to get in front of your target audience and sell.
What's Provided By the Event
The Salt Lake Women's Show provides guidelines specific for your event space. As part of your booth, you'll expect to receive an 8-ft. high black backdrop drape and a 3-ft high side drape that fits your 10 x 10 booth space. Electrical power, Wi-Fi, chairs, and a table are not provided but can be rented for an additional cost.
Salt Lake Women's Show Booth Checklist
Regardless of the type of booth you're planning on running, there are a number of things you should have. Here's a checklist of the more common items that you may find helpful if you're planning on running a booth at the Salt Lake Women's Show.
Banners and Visuals
With only the black draping provided, it's crucial to bring visuals that represent your brand and entice potential customers to check out your amazing products! Here are some options you can choose from to create a big visual presence:
Pop-up/retractable banner
Vinyl banner
Backdrops
Table banner
Note: Banners for this event must be professionally printed, not handmade. Also, the materials used for your visuals should not be a fire hazard. Vinyl banners are an especially good option for this event! If you want more tips on how to make the visuals stand out, read these six tips.
Tech & Equipment
What you need varies depending on if you choose to pay extra for electricity and a table and chairs. If you aren't paying extra for power, make sure you have backup batteries for your camera or other ways to charge your phone and other necessary tech. Here's a full list of tech and equipment you may need:
Camera
Extension cords and surge protectors
Tables and chairs
Computers/TVs/tablets
Charger cables for phones/tablets/laptops
A/V Equipment
We can't emphasize enough how important it is to have a camera on hand during the event! While your phone works in a pinch, a digital camera adds much more value to the pictures you take during the event. Not only can you use it as marketing collateral after the event is over, it's also a good way to get high quality pictures to share on social media during the event.
Sales Strategy
It's not just what you bring to the event, it's who. Choose someone to help make the sale that best represents your brand but is good at the sales process too. As part of your booth, you are given four exhibitor passes, so use them! You should also:
Create a social media campaign
Offer deals for visitors to your booth
Office Supplies
Don't miss a networking opportunity because you don't have a pen and paper on hand. Instead, prepare for any emergency with a small kit of office supplies, which should include:
Pens
Markers
Paper
Tape
Scissors
Sticky notes
Paper clips
Envelope or container for business cards
Stapler
Staple remover
Trash can
Trash bags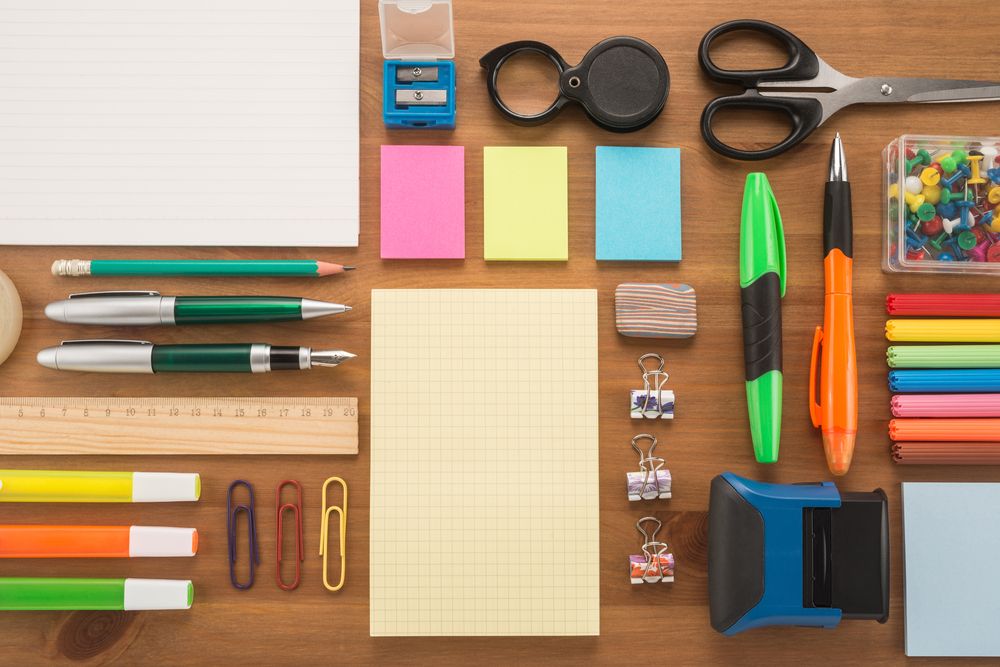 Essentials Kit
Chances are if you're running a booth, you'll want to have a number of little essentials to make your team last through the day. Here are a few things you should keep in your booth to keep your mood and energy up while preventing an after-event sickness.
Hand sanitizer
First aid kit
Aspirin/ibuprofen/allergy medicine
Tissues
Tool kit
Breath mints/gum
Bottled water
Snacks
Products
If you're planning on selling products at the Salt Lake Women's Show, make it easy for your guests to get a clear idea of who your business is! The Salt Lake Women's Show allows for handmade products, which means you may need certain packaging or die-cut labels custom-made for your unique products. It may look like:
Tags
Labels
Custom packaging
Shopping bags
Extra tags/labels if some get damaged
If you're holding a giveaway, you may want to have custom tickets or some way to keep track of entries.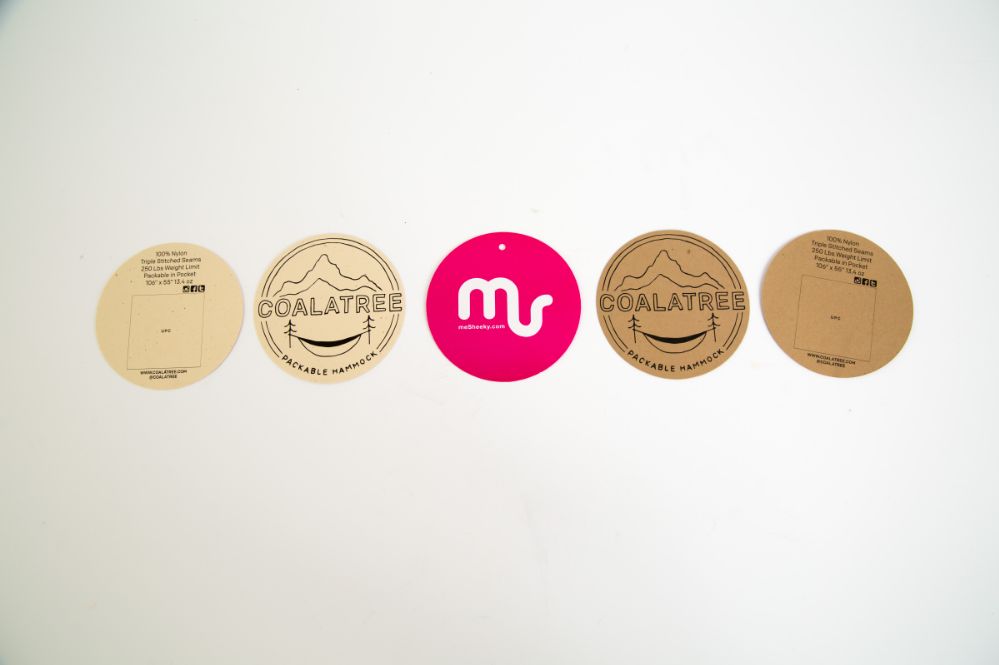 Moving Products
Vehicles aren't allowed in the space, so expect to be hauling in your products and booth supplies from the parking lot. Make it easier on yourself by bringing:
Handtruck
Wagons
Plastic bins
Product Displays
Since the event only offers the draping, it's important to have a variety of ways to showcase your products. Some options you can consider include:
Easels
Corkboard
Menu/Price boards
Fun Lighting
Ways to Accept Purchases
Make your sales successful by making it easy for people to pay. You should have on hand:
A cash box
Credit card reader
Change
Don't expect people to have plenty of cash on them, instead, use a credit card reader for your phone or computer, such as these top options. While it may lower your profit margins, being prepared with a credit card reader can increase your sales.
Need Printed Materials For the Show?
If you're looking to make your booth stand out at the Salt Lake Women's Show, leave it all to Presto Print! We can help with your banners, product packaging, and more. We offer fast turnaround times, plus we can help from design to print. Just give us a call for a free quote.