Restaurant Menu Design: Easy Ways to Influence Customers Into Buying More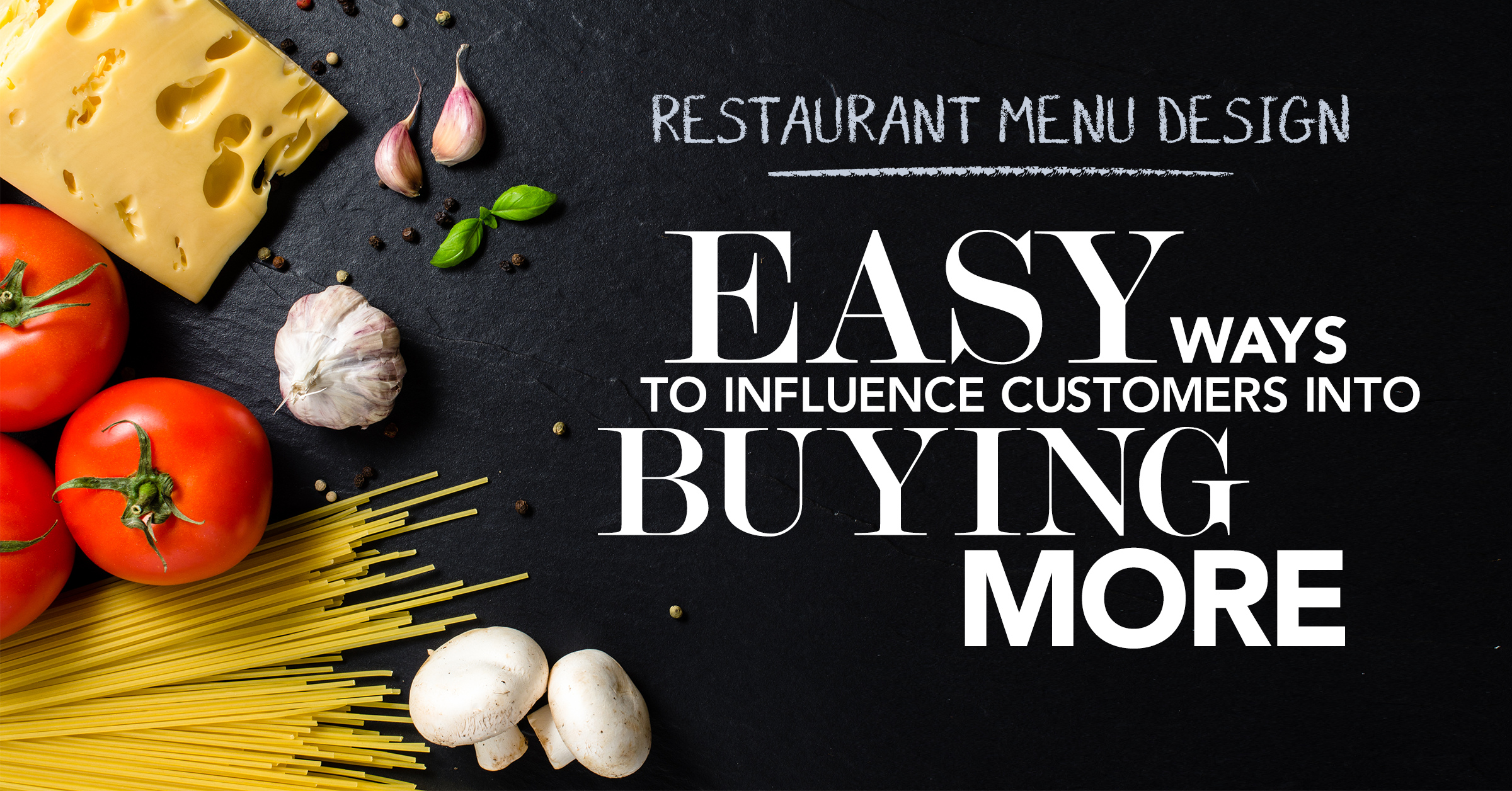 Believe it or not, the design of your menu can influence what and how much your customers purchase when they come to your restaurant. Do you know how to design your menu to maximize sales? Here are a few tips to follow when designing a new menu for your restaurant, cafe, or bar.
Start With Your Branding and Purpose
These are just a few questions you should ask yourself before you even start the design. Think about your restaurant's brand. What do you want your menu to say about your business? Consider these things when picking out the specific details of your menu and branding design.
Choose the Right Font
Different types of fonts can emphasize different parts of the menu. Bold and italic fonts can draw customers' eyes to specific menu items and divert them away from less important parts, such as price. However, too many different kinds of fonts can make a menu look jumbled and messy.
Pick a Color Scheme
Did you know colors can affect a person's appetite? Warm colors and a variety of colors encourage people to eat more while cool colors can lessen the appetite. Does that mean your menu should only use warm colors? Not necessarily. Choose colors that match your brand and message. Greens and blues often convey an eco-friendly vibe for example.
Use Only High Quality Pictures
If you choose to use images in your menu, make sure they're high quality and match your brand. No images? No problem. Your menu might not need images to encourage people to buy more. In fact, a good item description can often replace an image, cutting the cost of printing the menu and help keep the menu simple and easy to use.
Pay Attention to the Organization
Depending on the size of your menu, people may scan your menu differently. On a single sheet with columns, people often scan the middle column first, then move to the right then left. However, make sure that the sections in the menu also make sense.
This can also mean separating certain menu item types to completely different menus. A separate dessert menu can make it so people don't skip the appetizer. A separate drink menu is also always handy for customers, depending on how much you want to emphasize your drinking options.
Utilize White Space
Sometimes less can be more! Don't overwhelm your customers with too many choices or a busy menu design. Keeping the menu design simple can make it easier for customers to make a choice. It also is a great opportunity to design the menu in a way to guide your customers to the best of what you have to offer.
Remove Dollar Signs
The most effective way to encourage people to spend more on the menu design is to remove the dollar sign. A study from Cornell University showed that people are more likely to spend more if there's no dollar sign before a numerical price. It's an easy way to encourage people to buy without drastically altering your menu's design!
Choose the Right Paper and Fold
Do you want a menu that people can walk out with or do you want people to only use your menu in your store? Is the menu going to be posted online for customers to view? These are a few questions you can ask yourself when choosing the paper type and fold.
More and more restaurants are shifting away from the traditional tri-fold. Keep it simple with a flyer-sized menu or showcase everything you have to offer with a spiral-bound menu that's easy to flip through.
The higher the quality of material means the more expensive it will be to print but the longer the menus will last. However, if you plan for your customers to take your menu with them, quantity rules over quality. Play with paper embellishments, such as a unique texture or embossing to add a little extra flair to your menu.
Think Beyond the Menu
Once you've decided on a menu design, you can give a piece of your brand to your customers even after they leave, whether it's a coupon to send with guests or even paper bags for takeout. These are all viable options to encourage your customers to come back. When designing these extras, make sure the designs complement your menu and branding so your image is consistent and recognizable.
Want to Spice Up Your Menu Design?
If you're looking for a new menu for your restaurant, leave it to the experts at Presto Print! We can help every step of the way from design to print. Contact us for a free estimate on your next printing project.